Tours: CENTRAL ASIAN RING ADVENTURE MOTORBIKE TOUR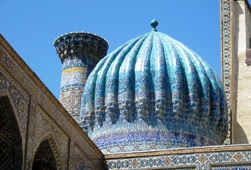 Central Asian Ring
is
exclusive adventure motorcycle tour
around Central Asia.
The tour route goes over southern Kazakhstan – eastern Uzbekistan – Kyrgyzstan and Tajikistan, including Pamir
This motorcycling tour is a real dream for any traveller! One tour includes four different countries, which every single of them has its own culture and inimitable nature! You are going to visit: Samarkand – ancient city standing right on the
Great Silk Road
in Uzbekistan with its fantastic architecture and eastern bazaars. You will go trough breathtaking mountain passes of Tajikistan and climb on legendary
highway Pamir
passage of 5000 meters above sea level altitude and
Wakhan
valley on Afghanistan border
. In Kyrgyzstan you will enjoy diverse nature of
Tien-Shan Mountains
with its gorgeous views and of course you will stay at amazing resorts of Issyk-Kul Lake. You won't be able to miss Kazakhstan with its endless steppe and fantastic
Charyn Сanyon.
You are the one who is going to experience this beautiful journey on a motorbike!
You are the one!
P.S. We do not describe some places and roads on our website because it is exclusive part of our itinerary and commercial secret.
---
Duration: 20 days
Country:
Kazakhstan, Uzbekistan, Tajikistan, Kyrgyzstan
Start/finish:
Almaty (Kazakhstan)
Total distance: 5000 km
Dates:
15.08.2018 - 03.09.2018
( the group is open, Welcome!)
---
Please feel free to contact us for more info.

Breakfast at guest house. Drive on colorful mountains of Tien Shan. Crossing Kyrgyz ridge through Alabel (3184m) and Too - Ashuu tunnel (3685m) passings. Arrival Bishkek – capital of Kyrgyzstan. Walking through the city. Overnight hotel.

Have a save flight! Thank you very much for being with us during this tour! You are always welcome here to take part in another fascinating motorcycling tour around Central Asia!

---
INFORMATION FOR PARTICIPANTS

OF CENTRAL ASIAN RING MOTORCYCLE ADVENTURE TOUR

Duration: 20 days, 15 days on the bike

Country: Kazakhstan,Uzbekistan,Tajikistan,Kyrgyzstan

Start/Finish: Almaty, Kazakhstan

Total distance: 5000 kм.

Roads: 90%on road - 10%off road

Accomondation: hotels (11 hights), gouesthouses (4 nights), resort (1 night), tent camp (1 night), yurt camp (1 night)

Support: : Toyota Land Cruiser

Available bikes: KTM Adventure 1190, MBW F800GS, Suzuki DR650SE

REQUIREMENTS FOR APPLICANTS:

-Readiness to have unbelievable adventure with lots of surprises on the way

-Physical strength and pure optimism

-Good riding skills

-Respect laws and culture of local people




VISA PROCEDURE

Our company does not issue visas nor provide visa support. You can contact with our partners who providing services on visa support and on other visa issues. (with mark from Marat)

Here is contacts of travel agency which helped.




Kazakhstan.

Name: Zhanat

Email: zhanna-rahmatuli@mail.ru

Tel: +77017449792

www.turanasia.kz




Kyrgyzstan

Name: Larisa

Email: office@asiamountains.net

Tel: +996 550657080




Uzbekistan and Tajikistan

Name: Nargiza

Email: info@samarkand-tours.com

Tel: +998906558088




Note. We do not receive any money commission from deals on a visa. It's not our business. So we are no responsible for their organisation. Just we share contacts with you. You can use other providers.




In order to participate in the Round trip through Central Asia tour, you will have to obtain the following types of visa:

-Double entry visa to Kazakhstan

-One entry visa to Uzbekistan

-One entry visa to Tajikistan and GBAR permit (Pamir)

-One entry visa to Kyrgyzstan

Please, contact us first before applying for visa, since visa procedures differ according to the country of your citizenship. Citizens of some countries do not need visa to Central Asian countries or may obtain it according to simplified procedure.

You may also obtain visas to Uzbekistan, Tajikistan and Kazakhstan in general consulates represented in Almaty. In this case you will have to arrive to Almaty 3 – 4 days prior to the tour and stay here during working days. If you want to obtain visas here in Almaty, in order to apply for Uzbekistan visa, you will need visa support, which can be provided by one of our partners. Visa support fee does not include processing fee. You don't need visa support in order to obtain visas to Tajikistan and Kyrgyzstan. Approximate visa cost is $100 (express visa).

Unfortunately, visa procedure is inimitable part of the tour, so please take some time in order to finish this process successfully, but we want to reassure you, that you will not face any troubles and obtain your visa in the shortest time. We recommend starting visa process 2-3 months prior to the tour. We are always there for you to help!




HOW TO GET HERE

Here is the list of air companies, providing flights to Almaty. You may also contact us specifying your country of departure. Since we have a wide client base from all over the world, we will contact them in order to receive recommendations or advise concerning flight details.

Air Arabia, Asiana Airlines, Atlasjet, British Airways, China Southen Airlines, Czech Airlines, Etihad Airlines, Hainan Airlines, KLM Airlines, Lufhansa, Mahan Air, Pegasus Airlines, S7 Airlines, Samon Air, Tajik Air, Turkish Airlines, Rossiya Airlines, Transaero, Turkmenistan Airlines, Uzbekistan Airlanes, Air Astana, Fly Dubai, Fly Vista




WHAT TO BRING?

The baggage of participants which will be in the car support is limited. The weight of your bags that you take the tour should not exceed 10 kg (without motorcycle gear). And that means you have to take only the essentials.




1. Passport, driving licence , money.

2. Motorcycle gear:

- helmet with visor. It's better to have an integral, flip-up or touring style helmet, but do not MX or open-face type, because in the mountains you can feel freezing rain, snow, wind and dust, which may make your face vulnerable.

- jacket and pant with knee, elbow and back protection. Jacket: If you use the jacket as a major shalt for a trip on a motorcycle, then it should have built-in protection - elbows, back, shoulders. Would be nice if jacket has a double layer, which can detach during a hot period of the day, and fasten upon the occurrence of cold. Pants:You can use the enduro pants with built knees protection. If you don't have such pants with built knees protection you can use just jeans or MX pants but have to use knees protection

- motorcycle boots. You can use different shoes - touring boots or motocross boots. The main thing that they would protect your feet and comfortable for switch gear.

- pair of gloves (one light for hot days other warm waterproof)

- motorbike neck warmer tube scarf windproof

- motorcycle thermal underwear for hot and cold weather

- 100% waterproof rain suit

3. Off-line GPS navigator in your mobile with local road maps

4. Necessary medications if you need them.

5. Shoes: sandals for resorts. Sneakers for the prom;

6. Clothes: a few T-shirts, a few spare socks, jeans, shorts, swimming trunks, a warm sweater, light jacket;

7. Towel and toiletries.

8. Sunglasses.

9. Sunscreen.

10. Mosquito Cream

11. Headdress: a cap or hat for the warm days and knit cap for cool;

12. Flashlight

13. Photo or video camera.

14. Own sleeping bag for one night tent camp in Funn Mountains. We provide tent and mattress.




Please use soft, compact bag for tour. Do not use bulky suitcases.

P.S. You can also bring a variety of inexpensive gifts for local children.

WEATHER CONDITIONS

Central Asia is the region with sharply continental climate. Day temperature during summer period is +25 to +40 degrees. After the sunset, temperature drops to +20 degrees, and to + 15 in the mountain areas.

It is hard to predict weather conditions in mountain regions of Pamir and Kyrgyzstan. Sometimes it can be cold wind or rain and it might be snowing in Pamir. So you have to be ready for any weather conditions.




ROADS CONDITION

Most of the roads of this tour are asphalt. But Pamir highway section as Kalaikhumb - Khorog -Yamchun - Murgab - Sary Tash are very tough. In places it is a twisted old asphalt, or simply a gravel comb. Due to harsh natural conditions, remoteness and lack of financing, these roads are not sealed and have never been repaired.

The quality of sealed roads in the mountain area is also inconsistent, as there might be construction works going or the road may be washed out due to heavy rains. In this case we will change the route. Please, be ready for that.




DISTANCE

There are some very long distances as well as very short ones. In any case daily runs range from 7 to 9 hours So you have to be ready for early wake up and arrive late.




ACCOMMODATION

We are trying to provide the most comfortable accommodation in our tours. But conditions and serviсe may vary from very good in Kazakhstan to very low in Tajikistan.

For instance, in such areas as the Fann Mountains,Kalaikhum, Khorog, Yanchun, Murgab there might be no electricity or water supply. It is due to remoteness of these places.

We will have a camp in the Fann Mountains and our company provides tents, mattresses. You should bring own sleeping bag. If you dont have let us know we provide.




FOOD

Dinner and breakfast we have in accomondation places. Lunch in roadside cafe.

Central Asian's food is not very diverse. Usually it's meat and dough. But for you will be usfull to know names some of most common dishes that are offered in road cafes and hotels.

Lagman - is made from meat (mainly lamb), vegetables and long noodles.

Shurpa is soup. Typically, this is a beef or mutton broth with large chunks of carrots, onions, tomatoes and potatoes. Good dishes for lunch.

Pilaf is rice, meat, carrots, onions.

Manty is stuffing beef with onions wrapped in dough.

Kebab or kuyrdak is fried or braised beef or lamb with onions.

Borsch is Russian soup. Meat broth with pieces of meat and with the addition of beets, cabbage, potatoes.




HEALTH.

The most common problem of guests is an upset stomach.

It comes from the local uncommon food. Acclimatization of food takes several days. Some people have 2-3 days. Others can not get rid of this this until the end of the tour.

Unfortunately, we are powerless here. So take the necessary medications.

But some tips may help you.

- do not eat much meat in the first days of the tour

- - if you want drink beer better drink beer before meals.

Mountain sickness.

Pamir Highway passes at an average height of 3000 m. We will have a place for acclimatization in Yamchun. Sometimes people feel very tired or have a headache.

So take the necessary medications.

BORDER CROSSING

Be patient. This can take from 3 to 5 hours.

You should be prepared that your things can be checked by the customs officer very carefully. They can even check your mobile phones and laptops. So make sure that your phones do not contain pornographic or religiously extremist information. Aslo make sure that you dont have any drugs in your stuff.

Do not bring medicines containing narcotic elements.




ATTITUDE AND BEHAVIOR

People in Central Asia are very friendly and hospitable. But you should be aware of some rules of behavior.

Prohibited:

- take pictures of border posts, police, military people .

- appear in underwear in hotels and guest houses. Especially if there are local women there.

- go to the toilet in the wrong place




Concerning relationship between participants and organizing company during the tours we don't support "I am the client, and you are an executive" or "the client is always right" attitude, since we believe that during the tour we are all one big team, where everyone respects, understands and helps each other.




SCHEDULE ROUTE AND CONDITIONS (click for zoom)

---



THE MAIN ATTRACTIONS OF THE CENTRAL ASIAN RING ADVENTURE MOTORCYCLE TOUR.

Mountain passes of Central Asian Ring Adventure Motorcycle Tour

Kordai Pass (1233 м)

Shahriston Pass tunnel (3378 m)

Anzob Pass (3372 м)

Hargush Pass (4 344 m)

Nazaitash Pass (4137 m)

Ak Baital Pass (4655 m)

Kyzyl-Art Pass (4280 m)

Too Ashu Pass tunnel (3586 m)

Ala Bel Pass (3184 m)







ATTRACTIONS OF KAZAKHSTAN.

Attractions of Almaty.

---

MEDEO in motorcycle motorbike tour

The Medeu, (Kazakh: Медеу; Medeu) or Medeo (Russian: Медео) is an outdoor speed skating and bandy rink. It is located in a mountain valley (Medeu Valley, or the valley of Malaya Alma-Atinka River) on the south-eastern outskirts of Almaty, Kazakhstan. Medeu sits 1,691 metres above sea level, making it the highest skating rink in the world.[1] It has 10.5 thousand square meters of ice and utilizes a sophisticated freezing and watering system to ensure the quality of the ice. The mountain valley was named in honor of Medeo, a wanderer who lived in the last century and established own aul in this picturesque. site.




Construction of the stadium began in the fall of 1949, and the first competition took place at the stadium on 4 February 1951. Medeu switched to its current system of artificial ice in 1972 by a team of Soviet engineers.




The Medeu Dam, built in the late 1960s, stands immediately south of the skating rink, protecting it – and the city of Almaty itself – from potentially devastating mud flows. Viewpoints on top of the dam provide great views of the stadium. The dam has 3 successive altitude levels. Special water reservoir allows holding about 6 million cubic meters of water. Stairs known to city inhabitants and tourists consisting of 842 steps leads to the dam. Contests on ascension along this unique stairs are regularly carried out.




Medeu has seen many world records in all the speed skating distances from 1951 until the 1980s: 500 m, 1000 m, 1500 m, 3000 m, 5000 m, and the 10000 m. In 1972, the rink made a very successful transition from natural ice rink to artificial ice rink.




The bandy team Dynamo Alma-Ata, won the Soviet Championships in 1977 and 1990 and the European Cup in 1978.




After the collapse of the Soviet Union in 1991, the costs to uphold the arena as a top ice rink proved too expensive for the independent Republic of Kazakhstan. The last great championship event for a long time on this ice rink was held in 1988—the Men's World Speed Skating Championship—which was won by the American skater Eric Flaim.




In the early years of the 2000s, Medeo's future status as a competition rink was uncertain. However, it was proposed as the speed skating venue both for Almaty's unsuccessful bid for the 2014 Winter Olympic Games and the successful one for the 2011 Asian Winter Games. In the end, bandy was the only sport here during the Games. Speed skating was held at Alau Ice Palace in Astana. Medeo was the main arena of the Bandy World Championship 2012.




Several years in succession (1990–2004) the ice skating rink turned into the large concert ground where the popular international music festival "Voice of Asia" ("Azia Dauysy") was carried out in which not only Kazakhstan performers but also variety stars from all over the world take part

---

THE ZENKOV'S CATHEDRAL IN ALMATY in motorcycle motorbike tour

In the late 19th century the first bishops of the Turkistan eparchy discussed the need for a Russian Orthodox Church in Almaty. On September 26, 1903 the bishop of Turkestan and Tashkent, Paisii (Vinogradov) consecrated the foundation of the church. Construction lasted between 1904 and 1907. The belfry was erected on September 14, 1906. The cathedral survived the 1911 earthquake with minimal damage, even though it was built without any nails, which some bishops attributed to divine intervention.




The inner structure of the cathedral was made in the artistic workshops of Moscow and Kiev. The iconostasis was painted by N. Khludov. After the Russian Revolution the cathedral was used to house the Central State Museum of the Kazakh Soviet Socialist Republic. From 1930 to 1940 it was used by important public organizations. The first radio transmitters in Almaty were situated in the cathedral's belfry.

Front View of the cathedral during winter

Restoration work on the cathedral began in 1973 and lasted until 1976. In May 1995 control of the cathedral was returned to the Russian Orthodox Church, and after additional restoration work it was reopened for religious services in 1997.

The cathedral is in the centre of Panfilov Park, named after the 28th Panfilov

---

PARK OF HEROES 28 - PANFILOVTSEV in motorcycle motorbike tour

Park of Heroes 28-Panfilovtsev, located in the heart of the city. The park is the memorial of glory, and eternal memory lane with fire. Memorial to the great courage and honor established in memory of those who defended our Motherland, its freedom, independence and honor of the WWII years, 8 May, 1975 on the eve of 30 anniversary of the victory of Soviet people in the Great Patriotic War. It consists of three songs that complement each other. The first part - high relief «Oath» (left side) - is dedicated to the young fighters for Soviet power in Kazakhstan. The central part of the triptych - «Podvig» - captured images of the heroes-Panfilovtsev, Russians, Kazakhs, Ukrainians, symbolizing the international nature of the heroic feat of Soviet people in November 1941 near Moscow the right track «Trubyaschie glory», which gives the entire memorial optimistic sound, the images represent hymn of triumphant life. Along the alleys of memory installed obelisks with the names of 28 fighters 1075 Regiment 316 Rifle Division, accepted the unequal battle with German tanks during the winter of 1941, during the battle for Moscow.

---

THE MONUMENT OF INDEPENDENCE in motorcycle motorbike tour

The Monument of Independence is installed in the city of Almaty in the Republic Square, on BajseitovaStreet and Satpayev Street road crossing. The complex represents the complete work of art that synthesizes architecture, sculpture andtexts of sayings of outstanding scientists, figures of culture and state.

The monument is installed on a semicircular stylobate the diameter of which is 28 metres and which is situated in the centre of a paved round platform with 46 metres in its diameter.

"The exposition of the complex's territory is stretched horizontally on 180 metres. The composition's centre is a vertical plastic sculpture 28 metres in height, reminding relief kulpitases (historical kazakh statues)of Mangishlak. It is crowned with «Golden» Man (Altınadam) (6 metres in height) - the ruler who drives a winged ouncein the standing position and symbolizes the firm government on the Kazakh earth. This image is recreated on the basis of studying the concrete archeological finds in a barrow of Issyk near Almaty where a sovereign of saks(VIII-IV centuries BC) was buried in smart clothes with regalias and attributes of the supreme power. (Its style of clothing, gold ornaments on it are the masterpieces of world art, inspired by the products of the human genius.

---

WESTERN CHINA - WESTERN EUROPA HIGHWAY or NEW SILK ROAD in motorcycle motorbike tour

A US$ 2.125 billion loan for the Kazakhstan South-West Roads Project will help upgrade the trade route linking China to Russia and Western Europe through Kazakhstan, bringing a helpful economic stimulus to some of Kazakhstan's poorest provinces. The project will boost Kazakhstan's competitiveness and bring significant economic benefits both to Kazakhstan and to the broader Central Asia region.

The World Bank will finance and rehabilitate a 1,062 km stretch of road between Shymkent and Aktobe/Kyzylorda Oblast border. This will be part of a US$ 7.5 billion International Transit Corridor development program of the Government of Kazakhstan to upgrade approximately 2,800 km of the CAREC corridors within Kazakhstan linking China (at Khorgos) to Russia (at Zhaisan).

---

CHARYN CANYON

in motorcycle motorbike tour jeep tour

Charyn Canyon (kaz. Sharyn) - stretching for 154 km along the river Charyn Canyon in Kazakhstan. Canyon is located 195 km east of Almaty, near the border with China. Canyon enters the territory of the Charyn National Park, formed by 23 February 2004.

Charyn Canyon - a natural monument, built of sedimentary rocks whose age is about 12 million years. Height steep mountain canyon reaches 150-300 m.

The most interesting place for tourists is the so-called Valley of locks, the length of which is about 2 km, width - 20-80 m. In the bosom of the canyon grove preserved relict species of ash surviving era of glaciation - Sogdian ash. Another similar grove is only in North America. Since 1964, Ash Grove declared a natural monument. Also of great interest is and turanga Grove - Grove Asian poplar. Landscape diversity of Charyn Canyon causes diversity of flora and fauna. There are more than 1,500 species of plants, 17 of which are listed in the Red Book of Kazakhstan and 62 species of mammals, 103 species of breeding birds, 25 species of reptiles.

---

---

---

ATTRACTIONS OF UZBEKISTAN.

in motorcycle motorbike tour jeep tour

Attractions of Samarkand.

SAMARKAND. (Please click on picture for more info)

in motorcycle motorbike tour jeep tour







---

GUR-EMIR MAUSOLEUM

(Please click on picture for more info)

in motorcycle motorbike tour jeep tour

---

REGISTAN SQUARE

(Please click on picture for more info)

in motorcycle motorbike tour jeep tour

---

BIBI-KHANYM MOSQUE

(Please click on picture for more info)

in motorcycle motorbike tour jeep tour

---

SHAKHI-ZINDA NECROPOLIS

(Please click on picture for more info)

in motorcycle motorbike tour jeep tour

---

SIYOB BAZAAR

(Please click on picture for more info)

in motorcycle motorbike tour jeep tour




---

---

---

ATTRACTIONS OF TAJIKISTAN.

KHUJAND CITY

(Please click on picture for more info)

in motorcycle motorbike tour jeep tour

---

FANN MOUNTAINS

(Please click on picture for more info)

in motorcycle motorbike tour jeep tour




---

ANZOB TUNNEL

in motorcycle motorbike tour jeep tour

The Anzob Tunnel or Ushtur Tunnel is a 5,040 m long tunnel located 80 km northwest of Tajikistan's capital Dushanbe.




The tunnel connects the Tajik capital to the country's second largest city, Khujand, travel to which, prior to the tunnel's construction, required travelers to cross the border into Uzbekistan in order to travel between the two cities. It is also a transit route between Dushanbe and Uzbekistan's capital Tashkent. Prior to construction of the tunnel, especially during winter, the threat of year-round avalanches led to periodic disruptions of commerce. Tunnel facilitates overcoming Hissar ridge and provides year-round road link between the northern (Sughd Province) and southern regions of Tajikistan. Earlier in the winter travel in the northern regions of Tajikistan through Anzob (height 3372 m) has been closed for 6 months. The tunnel has reduced the road between Dushanbe and Khujand by 30 km and travel time along the new route - dropped to 5 hours. The length of the tunnel more than 5 kilometers. As of May, 2014 the tunnel was still unfinished and the Iranian government and Tajik government had signed an agreement to complete the project by late March, 2015.

Strategic Importance

Its construction put an end to Uzbekistan's ability to halt traffic between Tajikistan's two largest cities. It marked the beginning of other major co-operative projects such as the Sangtuda-2 power plant.

The tunnel is also said to be part of a planned road which would run from Iran through Herat in western Afghanistan and Mazar-i-Sharif and Sherkhan Bandar in northern Afghanistan to Tajikistan and from there up to China. The route has been named the new Silk Road.

---

PAMIR MOUNTAINS

(Please click on picture for more info)

in motorcycle motorbike tour jeep tour




---

PAMIR HIGHWAY OR M41

(Please click on picture for more info)

in motorcycle motorbike tour jeep tour

---

KHORUGH

(Please click on picture for more info)

in motorcycle motorbike tour jeep tour

---

WAKHAN CORRIDOR

(Please click on picture for more info)

in motorcycle motorbike tour jeep tour

---

BIBI FATIMA HOT SPRING

in motorcycle motorbike tour jeep tour

Ostoni Bibi Fotimai Zakhro is Tajik for "Holy Site of the Sleeves of Bibi Fatima". The hot springs lies deep in the Wakhan Valley of Tajikistan's Pamir Mountains, just a stone's throw away from Yamchun village.

As most of the homestays in Tajiksitan would not provide you with hot bath, and so Bibi Fatima hot springs is a destination

the one can only dream of reaching after days of travelling thru hot waterless area. Soaking in the natural warm mineral water has been said to rejuvenate women's well-being in ways that improve female fertility. The springs themselves are just a simple concrete room built against the rock face where the hot water emerged. The hot water comes from a fine stalactite cave, length of which is unknown. Unlike another Pamir famous hot spring Garm Chashma where the water is full of minerals and very silty, the water in Bibi Fatima contains no chalk and is crystal clear.

---

YUAMCHUN FORTRESS

in motorcycle motorbike tour jeep tour

In the end of the 1st millennium B.C. because of the threat of military attacks from neighbors as well as for the purpose of controlling the traffic of people and cargos from Pamir to Bactria, India, Iran and back the construction of powerful fortifications began. The first of them was Yuachmun Fortress (also known as Kafyr Kala). The fortress was constructed in the 3rd century B.C. on the slope of the rock which was favorably during its construction. If seen from above the fortress has a triangular form divided into three parts. The first is the citadel with a bastion and barracks. They were walled and reinforced by towers. Two other parts are extensive platforms for conducting military actions. Each platform is surrounded with powerful walls reinforced by 36 towers with loopholes.The fortress walls are double, made from carefully processed tiled stones delivered by builders from different remote places. The outer 2 m-thick wall was made entirely from stones. The inner wall is also from stones which are only 50-60 cm thick.The entire fortress "is connected" by means of towers with embrasures cut in chessboard order and inclined downwards under a small angle so that the warriors could cover with their fire the entire valley. Some loopholes are directed both outside, and inside of the fortress which considerably increased its defensibility. The fortress amazes with its size. This powerful military structure had an exclusive significance for the local territory.

---

MURGAB

(Please click on picture for more info)

in motorcycle motorbike tour jeep tour

---

AK BAITAL PASS

in motorcycle motorbike tour jeep tour

Ak-Baital pass is a high mountain pass on the border of the Republic of Tajikistan (GBAO region) and Kyrgyzstan at an elevation of 4,655-meter (15,270 ft) above the sea level. The pass is a part of the Trans-Alay Range and it's the highest road pass in the former Soviet Union.




Pereval Akbaytal is crossed by M41 road, known informally and more commonly as the Pamir Highway. This section of the road is barely passable. Throughout the area, the land is typically rugged and dry. This road is sometimes referred to as "The Road from Hell". Construction and maintenance levels vary substantially along the highway. The roadway is paved is some areas, but is mostly unpaved. The road is heavily damaged in places by erosion, earthquakes, landslides, and avalanches. The road was built during Soviet times, to connect parts of their imperium in this region. Since the breakdown and Central Asia's independence, not much coherent maintanance has been done to the road, only in spots, where damage has been caused by flash floods or scree.

---

---

---

ATTRACTIONS OF KYRGYZSTAN

OSH CITY

in motorcycle motorbike tour jeep tour

Osh (Kyrgyz: Ош) is the second largest city in Kyrgyzstan, located in the Fergana Valley in the south of the country and often referred to as the "capital of the south". The city is at least 3,000 years old, and has served as the administrative center of Osh Province since 1939. The city has an ethnically mixed population of about 255,800 (in 2012), comprising Kyrgyz, Uzbeks, Russians, Tajiks, and other smaller ethnic groups.

It is the most ancient city of Kyrgyzstan and is estimated to be more than 3000 years old. Osh is a lively place, with the largest and most crowded outdoor market in all of Central Asia, now named as the Great Silk Road Bazar (since it used to operate as a market during the Great Silk Road period).

he city is among the oldest settlements in Central Asia. Osh was known as early as the 8th century as a center for silk production along the Silk Road. The famous trading route crossed Alay Mountains to reach Kashgar to the east. In modern times, Osh has become also the starting point of the Pamir Highway crossing the Pamir Mountains to end in Khorog, Tajikistan.

---

TOKTOGUL LAKE

(Please click on picture for more info)

in motorcycle motorbike tour jeep tour




---

ALABEL PASS

in motorcycle motorbike tour jeep tour

Ala-Bel pass - this is one of the main "control points" on the Bishkek-Osh road. It is located at an altitude of 3175 m above sea level on the Talas Ala-Too. Pass connects Suusamyr valley and the valley Chychkan. Ascent and descent from the pass quite gentle.




Pass around some mountains, heavily covered with snow in the winter, so this time the landscape resembles the white desert. The pass offers a wonderful view of the alpine meadows, which in the period of flowering herbs are full and distribute a magical flavor. Parallel to the road fast river flows Chychkan.

---

TOO-ASHUU PASS

in motorcycle motorbike tour jeep tour

Too-Ashu Pass - is a majestic place, located 135 km from Bishkek, on the road connecting the north and south of the capital. The height of the pass 3400 m. Road to this place truly breathtaking, and the traveler eyes open indescribable mountain scenery.

The road passes through a tunnel. The tunnel passes through the Kyrgyz Range. The length of the tunnel 4 kilometers

Here, a strong wind blows, and the mountains are covered with ice caps all year round. But the air in the pass uniquely fresh and clean, and every person inhaling it understands that such air he never met. On the southern slope of the Too-Ashu situated ski resort, popular with skiers and snowboarders in the winter. The pass begins Susamyr.

---

BISHKEK CITY

(Please click on picture for more info)

in motorcycle motorbike tour jeep tour




---

ISSYK KUL LAKE

(Please click on picture for more info)

in motorcycle motorbike tour jeep tour

---



---

PHOTO GALLERIES OF CENTRAL ASIAN RING MOTORCYCLE ADVENTURE TOUR

Motorbike's pictures of tour around Kazakhstan, Uzbekistyan, Tajikistan (Pamir), Kyrgyzstan.

Click to view