Tours: «SILK WAY» Historical tour on URAL SIDECAR retro bike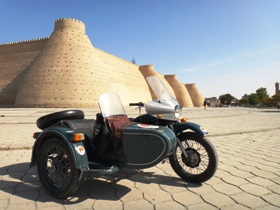 Welcome to Sunny Uzbekistan!!! On a URAL Sidecar Motorcycle!
On this tour we will go by Ural sidecar motorcycles on the Great Silk Way which for many centuries was the major route through Central Asia.
Like ancient merchants we will travel the Silk Way to its center in "Mysterious Uzbekistan"
Our tour will include many varied experiences including:
•Oriental bazaars of Samarkand like 1000 years ago
•Endless juicy fruits and unique Uzbek pilaf (food)
•Overnights in ancient caravanserais (an Inn or Stone Castle with Courtyard) of the Great Silk Way and famous Madrassa (religious school)
•Hearing the tale of Bukhara City and its artisans
•The hot embrace of the Kyzyl-Kum desert
•Visits to the most famous historical centers of Uzbekistan: Tashkent, Samarkand, Bukhara & Shakhrisabz. The age of several cities is more than 2500 years and some are listed as UNESCO World Heritage sites.
All of this and much more are on the Ural sidecar retro-bikes exotic tour along the Silk Way in fabulous Uzbekistan!
Ural sidecar motorcycle tour, rent in Central Asia (Kazakhstan, Uzbekistan,Tajikistan, Kyrgyzstan)
---
Duration: 14 days, 12 days riding Date:
Country:
Uzbekistan
will soon
Start/finish: Tashkent сity
Total distance: approx. 2130 km
---
Please feel free to contact us for more info.

1. Tashkent

Arrival in Tashkent, transfer, accomondation in hotel. City tour. Going sightseeing and acquaintance with the escort team and the rest tour's participants. Overnight at the Hotel.

Morning departure from Tashkent to Jizzakh. Overnight at the Hotel.

Morning departure from Jizzakh to Shakhrisabz. Shakhrisabz was founded over 2,700 years ago. The ancient inhabitants of the city - Sogdians were known for their handicrafts, commerce and high culture. The historic city center is a World Heritage Site by UNESCO. Visit: Aksaray - the palace of Timur (1380), the mausoleum of Sheikh Shamsadov-Din, the mausoleum Gumbazi-Seyidan Mosque of the Kok-Gumbaz. Overnight at the Shakhrisabz guesthouse.

Breakfast. Then we go from Shakhrisabz to Bukhara. Bukhara - one of the oldest cities in the world. Age of Bukhara over 2500 years. Overnight in the guest house - madrasah built 300 years ago.

5. Bukhara

After breakfast we go sightseeing with the guide. Here we can see the historical monuments of Bukhara:

• Arq fortress

• Poi-Kalyan architectural ensemble

• Ulugbek Medrese

• Abdullaziz khan Medrese

• Lyabi-house ensample

• Magoki Attori Muslim

Overnight in the guest house - madrasah built 300 years ago.

6. Bukhara - Ayaz Kala fortress

Morning departure Bukhara to Ayaz Kala fortress. We will drive on our Ural sidecar and cross the Kyzylkum desert. Visit the ancient fortress. Overnight at the yurt camp.

7.

Ayaz Kala fortress - Khiva

In the morning we will continue to ride Ural motorcycles. Departure Ayaz Kala fortress go to Khiva. Khiva is a pearl of Khorezm oasis. The ancient city of a fairy tale. The Khiva city is open air museum.

Overnight

guest house.




8. Khiva

Today rest day.

We will visit historical monuments of Khiva :

• The Kalta Minar minaret

• The Juma Mosque

• Madrassah of Muhammad Amin Khan

In the evening you will have a chance to taste Eastern dishes.




9. Khiva - Bukhara




We will continue our Ural motorbike tour.

Departure Khiva go to Bukhara.

Overnight at the Hotel of Eastern style.

10. Bukhara - Samarqand

We have to leave beautiful Bukhara and go to ancient Samarqand.

Overnight at the Hotel of Eastern style.

11. Samarqand.

Today our motorcycles rest, and we are immersed in the ancient city of Samarkand. Samarkand witnessed the time of Alexander Makedonsky, occupation of great Chingyz khan and Timur the Lame, possessing a mix of different cultures. Magical city! In 2001 year Samarkand was included in the World Cultural Heritage List of UNESCO. Our city tour will be divided in two parts and we will need no bikes for that. Before the lunch time you will visit: Gur-Amir mausoleum and Registan square. And after, real pilaf for lunch – national Uzbek meal, the crown jewel of Uzbekistan kitchen. The hottest time of the day we are going to spend in a hotel and continue our excursions visiting Bib-Khanummosque and Samarkand bazaar. Shashlyk for the diner and beer of Samarkand brewery works for drinks.

Overnight at the Hotel of Eastern style.

12. Samarqand - Jizzakh

In the morning we will continue our Ural sidecar tour .Today we are leaving Samarqand and go to Jizzakh.

Overnight at the Hotel.

13. Jazzakh - Tashkent

After breakfast we go to Tashkent. Celebration dinner Overnight at the Hotel.

14. Tashkent




Departure.

---

Please feel free to contact us for more info.
Sorry. The page is on the reconstruction.
PHOTO GALLERIES OF «SILK WAY» Historical tour on URAL SIDECAR

Motorbike's pictures of tour around Uzbekistyan. Click to view